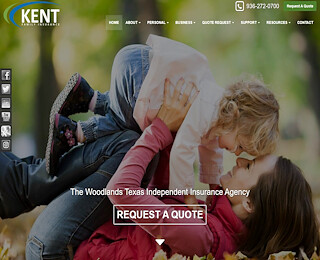 If you need to find homeowners insurance in Magnolia TX look no further than Kent Family Insurance.
Why Do I Need Homeowners Insurance?
Your home is one of your most substantial investments. If you have a loan, your lender will require you to carry insurance in case fire or weather-related events destroy your home. Homeowners insurance in Magnolia TX doesn't just cover the structure of your home but covers all of your possessions that are inside your home too.
You must understand your insurance policy and that you carry enough insurance to cover a loss should it occur. Plus, family liability insurance is usually standard on most homeowner's policies that will cover you if there is a lawsuit filed against you because of an injury on your property.
If you need to rebuild after a fire or natural disaster, you will be happy you have a reliable insurance policy to help. Several different variables can affect the cost of your homeowners insurance, including pools, trampolines, and several different breeds of dogs.
What Does Homeowners Insurance Cover?
Your homeowner's insurance typically will cover the following:
Dwelling protection is the basic coverage of your policy. It covers your home, including foundation, walls, roof. It may also help cover your garage if it is attached plus a deck. It also might cover other structures that are on your property, such as a detached garage, tool shed, or fence.
Personal property is also covered under your policy. If you have a break-in and your electronics and other items are stolen, it helps pay for that too. If your furniture is damaged by fire or smoke, that is covered.
Liability protection is provided while visitors are on your property. Bodily injury liability coverage can help pay for legal expenses and medical bills if you are at fault.
Remember that each coverage in your homeowner's insurance in Magnolia TX is subject to a limit, and a deductible you have to pay before your coverage takes over.
You may want to purchase a personal umbrella policy that can increase your liability coverage limits. If you have expensive items, such as furs or jewelry, you may need to purchase extended coverage for those as well. Not all-natural disasters are covered by homeowner's policies such as earthquakes and floods. You can often buy these separately.
How Do I Choose Homeowners Insurance?
You will want to find a company and a policy that fits your needs. It is advisable for you to contact a broker or agent in your area. You will want someone that you feel comfortable with and you trust. Ask your friends, family, and co-workers.
You may be able to save money by bundling your homeowners and auto insurance. If you are going to require additional coverage for flooding, earthquakes, and personal property, make sure the insurance company or agent you choose understands what you need. Your agent's customer service speaks volumes as to whether they value your business. If you want someone to help you with homeowners insurance in Magnolia TX, contact us at Kent Family Insurance and let us help you.