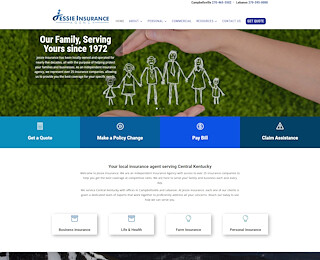 At Jessie Insurance Agency, we can help you compare the various Kentucky health insurance plans and choose the policy that offers the best coverage. We are a reputed name for helping clients find health plans at affordable premiums.
Where to go to buy health insurance
If your employer doesn't offer you a health plan, it is important to buy a health plan through a private health insurance company. Here are some of the ways to buy health insurance:
Medicare.gov – If you are going to be retired soon, Medicare is the website to check. Start by seeing what your standard Medicare plan entails, so that you choose options for supplement Medicare through Medicare Advantage policies.
Healthcare.gov – The Health Insurance Marketplace was created in 2014 and had a website where you can go to choose a type of health insurance coverage. You can also use this website to check if you qualify for any cost-saving measures and apply for the same.
Private health insurance companies – You can buy private health insurance from the website of major health insurance companies in your state. You can browse from a large number of available options, and buy a plan based on the deductible you can afford.
Pricing and coverage of policies can differ from one insurance provider to another. Be sure to compare various Kentucky health insurance plans from different providers before you make a decision.
How much does private health insurance cost?
On average, the cost of the monthly premium for employer-sponsored individual coverage insurance can cost $600- $700. Employee-sponsored insurance plans for family coverage can range between $1,500 and $1,700.
On the other hand, if you choose to buy health insurance outside of an employer-sponsored plan, your monthly premium can range between $400 and $500 for individual coverage, and $1,100 – $1,200 for family coverage. Furthermore, if you buy coverage through the Health Insurance Marketplace, you may be eligible for certain subsidies and advanced premium tax credits, which can reduce your monthly premiums, deductibles, and co-payments.
Points to consider before buying health insurance
With several options, it can get confusing to buy a policy that fits your lifestyle and medical needs. Here are several points to consider before acquiring a health insurance plan:
Consider your age and the age of your family members before purchasing a policy. The premium you pay directly depends on the age of the eldest member in your family.
If a policy comes at a reduced premium, check for any additional clauses such as co-payments, deductibles, sub-limits, etc., as lower premiums can often have you paying more at the time of claim.
Learn about the waiting period clause before buying a plan. Your goal should be to buy a plan that comes with a minimal waiting period so that you can use your insurance in case of a medical emergency.
Call us 270-465-5502 or 270-595-0000 to learn about our affordable Kentucky health insurance plans. Jessie Insurance Agency is a reliable Independent Insurance Agency with the best plans at affordable premiums.