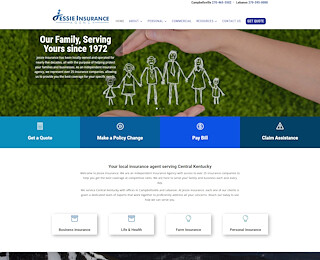 Jessie Insurance Agency is a highly sought-after KY homeowners insurance company, and we specialize in helping clients buy the best home insurance policy. With a team of an experienced and knowledgeable team of individuals, we help our clients choose a plan that provides them with maximum benefit and protection.
Getting the best home insurance policy
Before you buy a homeowner's policy, it is critical to determine the amount of coverage you need. Also, remember to get quotes from several companies and compare their coverage and premium rates. For this, take an inventory of all of the personal property inside and outside your home. Then, compute the cost of rebuilding your house after a disaster. You may also consider the additional coverages that you may need in case of earthquakes, floods, etc. You don't need to do it all by yourself. You can seek the help of one of our licensed KY homeowners' insurance agents.
You must also decide as to if whether you need replacement cost coverage or actual cash value coverage. A replacement cost insurance plan will allow you to replace your lost belongings with new items. On the other hand, a cash value policy will factor in the depreciation for your belongings and will cover you only for the actual value. Once you have made up your mind on what type of policy you wish to buy, you can purchase your insurance through your insurers' websites or over the phone or through an independent insurance agent.
The average cost of home insurance 
On average, the cost of home insurance can range between $1,900 and $2,100. Factors like location, personal insurance score, discounts that you qualify for, coverage option you choose, etc., can determine the premium you pay for house insurance.
Similarly, the type of policy you choose (Actual Cash Value or Replacement Cost coverage) can also increase or decrease the amount you pay as premium. We help our clients find the best homeowners' insurance plan with maximum coverage at an affordable rate.
Different types of homeowners coverage
There are different levels of homeowners insurance from HO-1 through HO-8, and each level offers a different level of protection depending upon the type of residence and needs of each individual. The important levels of coverage include:
Actual cash value – It covers the cost of the house along with the current worth of your belongings inside the house.
Replacement cost – This type of policy covers the actual cash value of your home and the value of belonging inside it. Under this type, the insurer will not take into account the value of depreciation of your belongings.
Guaranteed replacement cost – Under this policy, the insurer will pay for how much ever it costs to repair or rebuild your home even if it costs more than your policy limit.
Speak to one of our agents at Jessie Insurance Agency today to learn about our top KY homeowners' insurance plans. We are one of the few companies to place our clients' needs before our business goals, which allows us to offer exceptional customer service. Visit http://www.jessieinsurance.com/contact-us/ for more details.
Jessie Insurance Agency
+1 270-465-5502
103 Central Shopping Ctr
Campbellsville
KY
42718
US